EXCAVATION
Here is another update on my project – Follow the Build Part 2.
You would have read in my last post Follow the Build Part 1 where it's all about demolishing my old house.  Now that the demo is complete it's time for excavation. You'll notice a deck at one end of the site with the world's biggest open fire barbie. I built the deck and barbie about seven years ago. We have tremendous memories of times around that fire cooking meals with friends and kids, lots of photos and lots of fun.
We've watched the kids grow up around that fire and I figured I should keep it and incorporate it into the new build. That way when my kids are 40 odd they've at least got something of the house they grew up in and can tell some stories (with photos) to their kids.
The barbie used up 600 bricks and has an 18mm hotplate that's six feet by four feet – she'll do about 30 T-bones or 20 pancakes or a dozen bacon and eggs at once. Out of all my barbies this one is my pride and joy. I laid the 600 bricks in a day with a labourer – mind you it was a long day and I was a bit younger, that's why I had to keep it… sentimental value.
It's going to be tough building around the deck but I'm changing the roof and handrails but keeping the guts of it and, of course, the fire.
Now it's time for excavation; we're going to do a bit of cut and fill and levelling up of the site ready for the set out for the piers.
To retain the higher ground I used the recycled concrete blocks I was previously talking about. I put them in with the Bobcat, laid on some level crusher dust, and the blocks make the perfect retaining wall. Once we've got the rest of the blocks in I'll be ready to set out for the piers. Here's a few photos and the plans for the job are coming soon.
Keep following the build and let me know your thoughts via my Scotty Cam Facebook Page. 
Won't be long till the next update so stay tuned for part 3.
Related: Follow the Mudgee build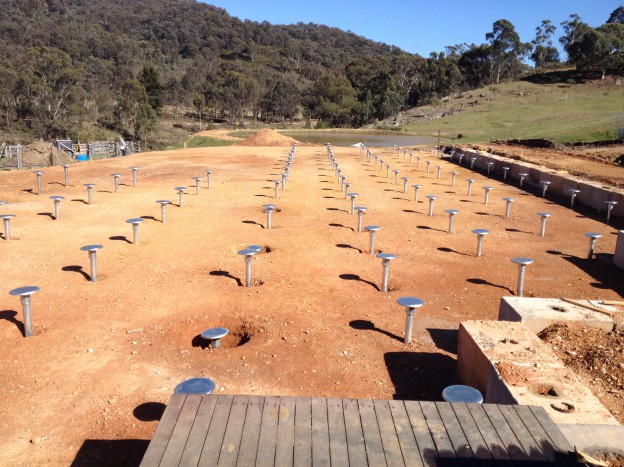 PIERS SETOUT Here is another update on my project – Follow the Build Part 3. You would have read in Follow the Build Part 2 which is all about excavation. Now that we have a good level site I'm getting into the set. It's so importa ... [read more]
DEMOLISHING MY OLD HOUSE The old house before it was demolished First thing I need to get done is to demolish the old house. There's a lot of memories for me with the kids and friends in there, so it's a bit sad. Having said that, the ... [read more]