DEMOLISHING MY OLD HOUSE
The old house before it was demolished
First thing I need to get done is to demolish the old house. There's a lot of memories for me with the kids and friends in there, so it's a bit sad. Having said that, the point is there's asbestos both inside and on the outside of the old house, and I want my grandkids to enjoy this place in the future, so I have to make the move and get things ready for the next generation. The timber structure of the floor frame, stud walls and roof frame also has some pretty serious termite damage, so it's time for it all to go.
Now considering we're dealing with asbestos and a significant amount of it, I always advise other people to bring in the experts, and I'm no different in this case. You'll end up with a clean, asbestos-free area, a guarantee of a healthy area with certification and, of course, peace of mind for the kids.
I organised a mob from nearby Bathurst to do the asbestos removal, and they did a ripper of a job. Very thorough, professional and good blokes at the same time. They were Phil Hewitt and his team from TPEC Demolition and Asbestos Removal.
The asbestos has to be removed in sheets with as little breakage as possible, so it's a tough job. The sheets are put into skip bins or trucks lined with plastic and these are tipped at a registered waste station, in this case, at Mudgee Tip. Once all the asbestos is removed and the roof is off, we're left with a timber frame, and here's where it gets tricky.
All the timber has to be vacuumed to remove any asbestos residue, then dismantled by hand, stacked and tipped the same way. The site is totally cleaned then an air test is performed over the next week to check for any asbestos particles. When the all-clear is given, a certificate is issued and you're all good. You can see why it's the go to get the professionals in.
Over the coming weeks I'll start the excavation. I've got an old Bobcat that I've had for years and I'll be bringing a mate in with another to give me a hand. Once the excavation is complete, you're going to love the new retaining wall. I'm going to build it out of concrete blocks 600mm x 600mm x 1000mm. They weigh about a tonne each and are made from left-over concrete that comes back into the concrete yard. This is poured into formwork to make the blocks and the great thing is that they are about $40 each – nice and cheap.
Stage 1 of the build was the demolition. Here's a few photos of that – and stay tuned for Stage 2. I'll put up some photos of the retaining wall once it's up and I'll also be popping the plans on the website for you to have a look at and follow.

Keep following the build and let me know your thoughts via my Scotty Cam Facebook Page. 
Won't be long till the next update so stay tuned for part 2.
Related: Follow the Mudgee build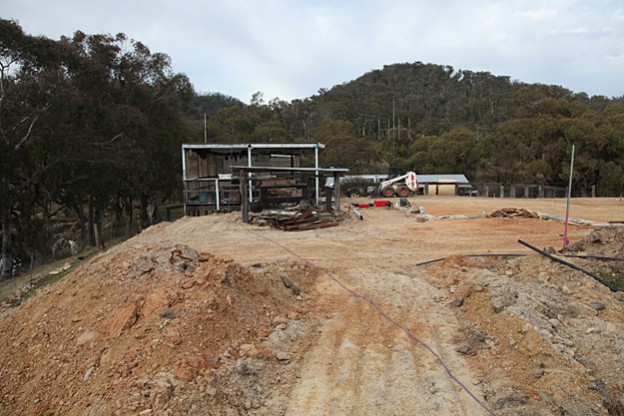 EXCAVATION Here is another update on my project – Follow the Build Part 2. You would have read in my last post Follow the Build Part 1 where it's all about demolishing my old house.  Now that the demo is complete it's time for excavat ... [read more]
The old shack on my Mudgee bush block has had it, so I've knocked it down and built a new place from scratch. It's a great DIY project, and I'd like you guys to roll out your swags and follow the progress at my 'Mudgee Build' blog. I'v ... [read more]